Easy insights into your business with Q6 reports
Gives business owners and employees anytime, anywhere access to the financial data and reports they need to make day-to-day and strategic business decisions. Q6 provides financial data for outside accountants, investors and partners. Basic 28 essential reports are pre-set in Q6 which are carefully selected by the Q6 program team.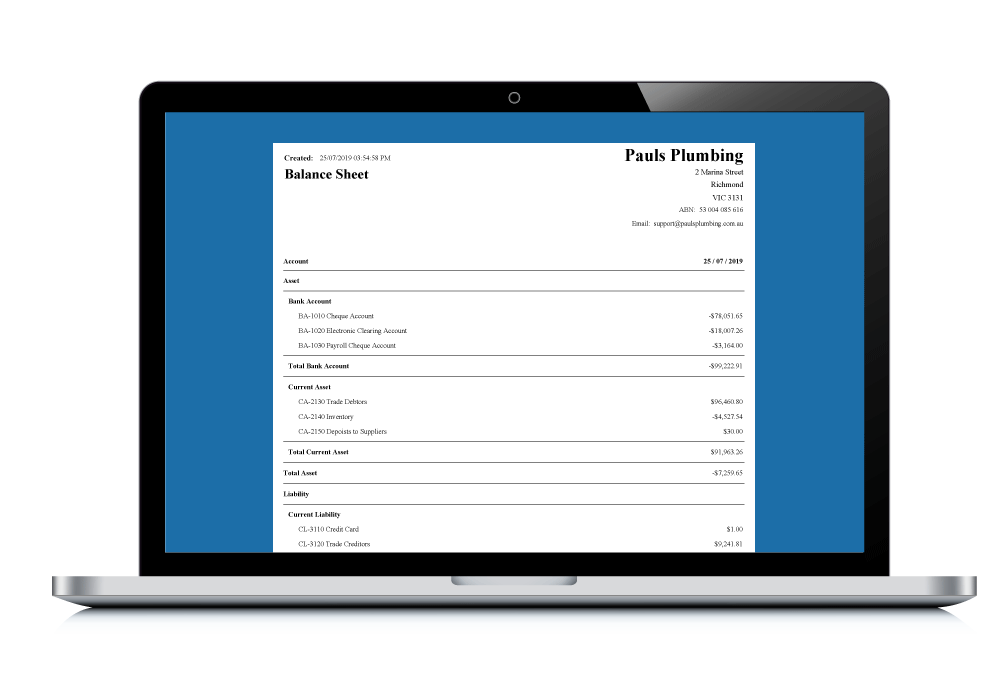 Company
BAS Summary
BAS Audit
Transaction Tax Codes
User Login History
Banking
Bank Summary
Bank Reconciliation
Statement of Cash Flow
Accounts
Balance Sheet
General Ledger Detail
Account Transactions
Profit & Loss
Trial Balance
Inventory
Inventory List
Inventory Stock Level
Inventory Stock Alert
Inventory Transaction
Inventory Count Sheet
Sales
Aged Receivables
Customer Payment History
Sales Transaction
Purchases
Aged Receivables
Supplier Payment History
Purchase Transactions
Payroll
Employee Contact Details
Payroll Entitlement Balance
Payroll Summary
Employee Super Payments
Payroll Timesheet
Single Touch Payroll Reporting
RUN POWERFUL REPORTS IN SECONDS
Understanding your business performance is the key to growing your business. The powerful analytics in Q6 Accounting helps you instantly see your receivables, payables, cash flow, income and expenses and much more right on your dashboard.
ALL-ENCOMPASSING REPORTS GALLERY
Get facts about your business fast! Don't wait till the month end to prepare financial reports of your business. Q6 Accounting provides a wide array of financial reports like profit and loss reports, cash flow statement, tax statement and many more, for your business, which you can prepare anytime.
SHARE REPORTS EASILY
Q6 Accounting helps you share your financial information in any way you want and as per your needs, quickly. Your colleagues or accountants can run the report themselves or you could share it with them by exporting it as PDF file and attach it to an email or even print it.
ANALYSED AND READY FOR ACTION
No more headaches of compiling and analysing financial data. Q6 Accounting provides all facts relating to the financial health of your business, in the form of all-encompassing reports, insightful dashboard and snapshot information about unpaid bills. Now, all you have to do is act on those business plans you make.
INSTANT INSIGHT ON DASHBOARD
Want to know how your business is faring without going knee deep into data? Simply click on the Dashboard of your Q6 account and view your invoice Aging Summary, Income and Expense chart, and Bank Accounts.